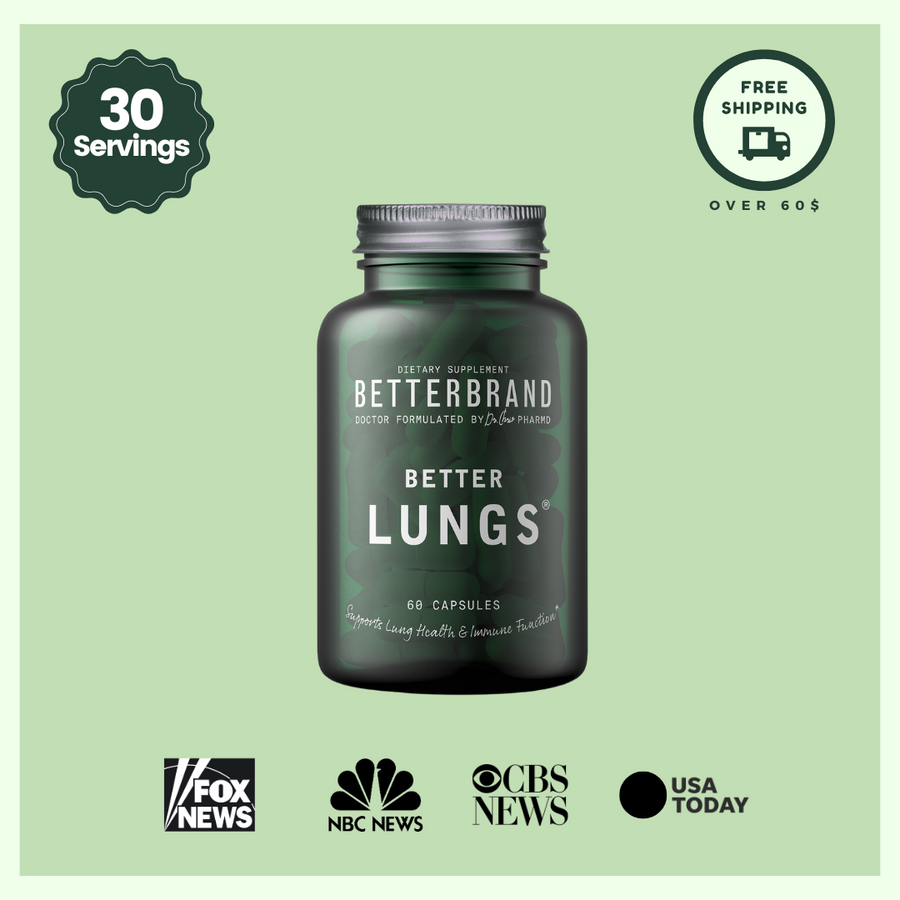 Respiratory & Immune Health
Old price $49.95 From $39.95
Helps to clear mucus.*
Naturally minimize coughing.*
Enhance airway & lung health to breathe easy.*
Seasonal sinus & bronchial support.*
Meet the Medical Team and
Scientists helping Betterbrand
empower others
Dr. Chris Jackson
Dr. Chris Jackson is a Doctor of Pharmacy. Dr. Jackson trained at The University of Texas at Austin and has published several research projects to advance the use of rapid diagnostics in the field of infectious disease. He served as a Combat Medic and Infantry Officer in the US Army.
Dr. Bischoff, MD
Dr. Helge G. Bischoff is a managing senior physician for thoracic oncology and is currently head of the institute of the renowned lung cancer center in Heidelberg, Germany. Specialized in pulmonary and bronchial medicine with over 30 years of experience, he has extensive experience in the field of lung health and the treatment of pulmonary diseases. Being a specialist for many years and with countless scientific publications, he is one of the leading and highly respected specialists in Germany.
Dr. Vogel, MD
Dr. Lukas S. Vogel is a medical doctor and biology graduate from leading German universities. Besides specializing in the fields of psychosomatic medicine, psychotherapy and rehabilitation, he is focused on the aspects of nutritional medicine and phytotherapy. Currently enrolled in two doctoral programs, he provides extensive scientific expertise.
Dr. Kanaan, MD
Dr. Matthew Kanaan is a Board-Certified Sports Medicine Physician. Dr. Kanaan trained at Duke University Medical Center and has published many research projects to advance the field of sports medicine. He has held academic positions as a professor both in psychology and in medicine. Dr. Kanaan has extensive experience in the supplement and e-commerce spaces and has a passion for finding evidence-based natural products that promote healthy living.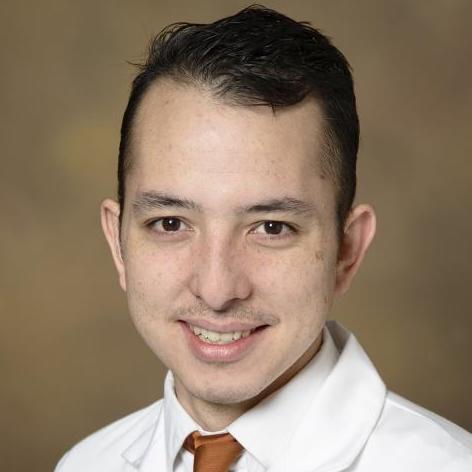 Dr. Tanoue, MD
Dr. Nathan Tanoue is a General Surgeon. He is a graduate of the University of Arizona College of Medicine and where he also earned his undergraduate degree in Chemistry
Everyday lung health support
When our founder Dr. Chris was a child, he didn't know how the lungs worked or why his grandma Shuggie had to use a nasal cannula, but he knew he didn't want to see her struggle. So he spent years of research and development to create a quick-impact lung support supplement that could help millions of others proactively maintain their respiratory health.
The Better Supplement Guarantee
100% Satisfaction Guarantee.
100% money-back guarantee if you're not happy with your order. Less than 0.2% of orders are returned!
Free shipping for subscribers.
15% off, free shipping, and a well-stocked medicine cabinet year-round.
No fillers, just the good stuff.
Natural, highly absorbable, and quick-impact ingredients — nothing else.
Natural Ingredients
Mullein Leaf

300mg

Used traditionally to free mucus buildup and clear your airways. It also helps soothe a sore throat.*

Elderberry

100mg, 5:1 extract- 500mg equivalent

Used for centuries for immune support and can be beneficial all year long.*

French Maritime Pine Bark

150mg, 95% proanthocyanidins

Aids with a stuffy or congested nose and supports the lungs, heart, and skin.*

Red Reishi

37.5mg, 4:1 extract- 200mg equivalent

Used for centuries, this immune booster also helps to calm and relax.*

Vitamin D

25mcg

Vitamin D has a significant impact on the respiratory system and immune health.*

L-Cysteine

400mg

Precursor to glutathione, which is involved in detoxification of the body and lungs.*

American Ginseng

50mg, 5% ginsenosides

Adaptogen used for centuries to resist stressors and boost athletic performance*
"BetterLungs really helps me get the gunk out of my lungs. After just 3 days I was able to cough up all that yuckiness. I've been on it for a few months now and I feel better than ever. Thank you Betterbrand!" -
Deborah W. Verified BetterLungs Customer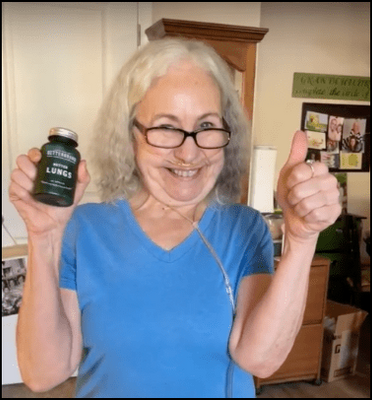 "I'm on full-time oxygen and BetterLungs has helped me feel my best. I can continue doing my regular chores and feeling more active than ever!"
Melissa A. Verified BetterLungs Customer
"I've been using BetterLungs for 6mo and can tell a difference in my breathing. I was hesitant at first, but now I can get up and use the bathroom during the night and get back in bed without being out of breath like I used to. I'd recommend this product to anyone with COPD!!"
Rick D. Verified BetterLungs Customer

BetterLungs vs Others
| | BetterLungs | ClearLungs | Breathe (EU Natural) |
| --- | --- | --- | --- |
| No Hidden Doses | ✓ | | |
| Uses Modern And Traditional Ingredients | ✓ | | ✓ |
| Pharmacist Formulated | ✓ | | |
| Full Does Of Active Ingredients | ✓ | | |
How it works:
Take two (2) capsules, at the same time, daily — with or without food. Effects take time to build, so we recommend at least 30 days of consistent use to experience the full impact of our formulation.
Dosage
F.A.Q
We designed BetterLungs® to support healthy respiratory and immune systems while keeping everyone in mind. Our ingredients have been studied extensively in many settings! With that said, no supplement can make claims regarding any diagnosis. As always, we recommend that you check with your doctor or pharmacist before starting any new dietary supplement as they have your full medical history available.
While some customers notice positive effects in the first few days, we tell our customers to give the product 4 weeks for maximum effect. And that's why we have a 100% money-back guarantee.
BetterLungs® isn't intended to help you stop smoking, and you can still smoke while taking the product. That said, BetterLungs® will help support your lungs!